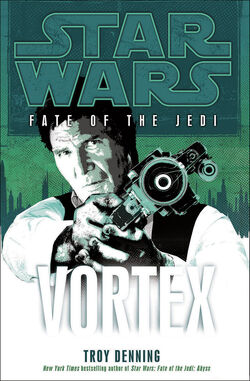 Title: Vortex
Author: Troy Denning
Superseries Star Wars
Series: Fate of the Jedi
Preceded By:
Allies
(Christie Golden)
Succeeded By: Conviction (Aaron Allston)
Ratings
Score: 8/10
Chart
Movement: 22 -> 21
How likely I am to read the next in the Series: Definite.
Review
I had no idea where this book was going to start. The last book, Allies, pretty much finished off every storyline except for the Trial of Tahiri Veila. With four more books to go, I began this one a little apprehensively. But that problem is quickly resolved. We found out pretty much straight away that Abeloth has a little trick up her sleeve that means that she could indeed be the main antagonist for the rest of the series, and we also see that the conflict between the Jedi and Admiral Daala is still going strong.
In short, there's plenty to read about in this book. But there was another reason that I was apprehensive. For me, Denning's contributions to the Legacy era books have been going downhill since his spectacular first entry in the legacy of the force series. But fortunately, while not matching the level of writing he had with Tempest, was considerably more engaging than in Abyss. He still used one or two awkward metaphors every now and again, but overall the writing was smooth, enjoyable, and most importantly, easy to read.
The events in this book were various levels of interesting. I started to get bored of the trial in the last book, and now that I've been on a jury in a real trial, I find it even less interesting. Because of that, I'm starting to get a bit bored of Tahiri herself, and her previously interesting representative.
But then we have the next planet that Luke and Ben travel to, along with their captive sith Vestara. There's a plague on Pydyr, which I won't tell you about in any detail, but it's an interesting one. Then there's the actual people there. The Fallanassi are another group of Force Users, one of which seems to have been another of Luke's previous love interests. It's not the same kind of visit as in earlier books however - not a simple learning visit, and so it's a faster paced visit, with a little more action. Although until the end of the book, and I really enjoyed the Luke/Ben/Vestara ending, this isn't what I found most exciting.
<MINOR SPOILER ALERT>
The Jedi actually do something for themselves in this book. It's been a while coming, but it's worth it. I did not expect the way it played out, and I'm not going to tell you here either. But it was the Jedi Temple's Storyline and ending, as well as Luke/Ben/Vestara's ending that really made this book worthwile.
<End Spoiler>
You'll notice that I haven't really spoken about characters in this review. That's because they haven't changed a lot from previous books. Jaina isn't as exciting as I'd hoped she'd be, now that we're seeing more of her, and Allana is still acting too old. Two characters really developed in this book, Vestara and Master Sebatyne. They were my favourite characters in this book, and I can't fault them at all. The Ben/Vestara interplay is interesting, and familiar. There's not an awful lot new to it. But I did like Vestara.
Overall, this book is probably the best in the series so far. Certainly, it's the first book that's really made me want to read the next one straight away. It actually suggests that there is a storyline for the rest of the series, and develops two interesting characters particularly well. If you were thinking of not reading this book in the series, I would advise you to. If you haven't read the series at all, and have the time to spare, this one isn't bad.
More Information
Main Protagonist(s): Several, of mixed Gender/Species
Main Antagonist(s): A Female Entity, and a Female-led Organisation,
Main Relationships: Heterosexual
Genre: Sci-fi, Space Opera
Brief Synopsis:
In a stunning turn of events, Luke Skywalker and his son, Ben, joined forces with members of the Sith armada sent to kill them—and turned their combined might against the monstrous being Abeloth. But with one menace dealt with, a new and even more insidious threat looms.

Now Luke and Ben must go on the run, taking along the inscrutable—and ever dangerous—Sith apprentice Vestara Khai. With a host of Sith warriors in hot pursuit, the Skywalkers soon find themselves trapped on the moon Pydyr, caught between their former allies and a mob of angry Fallanassi. A new truce may be their only hope. But can a Sith ever be trusted?


With the Jedi's most famous father-and-son team outnumbered and outgunned, the countdown to galactic disaster has begun—and time is running out.
-Amazon.co.uk
ISBN: 978-0099542766
Amazon Link:
UK
|
US
Pages: 400
Published: 30 November 2010 (Lucas Books)
UK Publisher: Arrow (4 Aug 2011)